A DJS Wedding incporating Sodalite Blue. To see photos from the affair, go here.
In our last blog, we talked about Pantone's newest color trends for Spring 2012. Are you planning your Spring wedding right now? You may want to consider Pantone's hottest colors of the season.
In this blog we'll discuss some of the ways you can utilize
Sodalite Blue
for your wedding- from your flowers to your dress!
Sodalite Blue
is our favorite Pantone color this season- the perfect color in between Navy & Cobalt.
Sodalite is actually a stone, see photos above.
You can incorporate Sodalite into your wedding furniture, as shown in that chic couch in the photo below. Check out those sweet dresses! Perfect for bridesmaid's dresses in a casual, Springtime wedding.
Source: ChicAdvisor.blogspot.com
Source: Badcrush.blogspot.com
Of course, Sodalite can be that "something blue" that you wear- a garter, shoes or hair piece.
That
Something Blue
: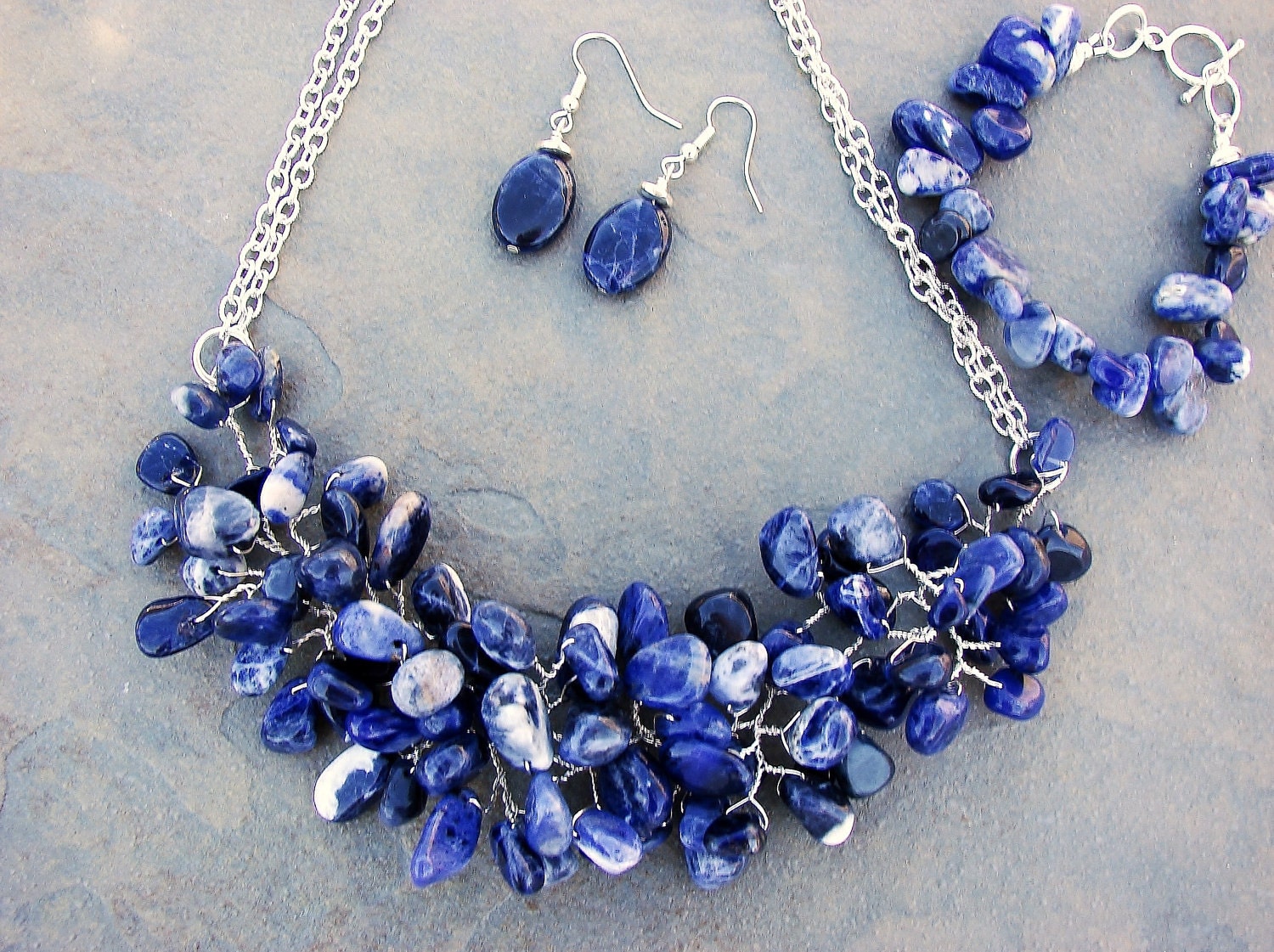 Etsy.com
Check out that dress smack in the middle-- a perfect candidate for a bridesmaid's dress! The shoes in the lower corners would do well for either a Spring or a Summery beach wedding.
Both Delphinium & Blue Anenome are fantastic flowers that pick up the Sodalite Blue theme.
Source: JamieSaysDream.blogspot.com
The cake from a DJS Events Wedding in a shade of Sodalite.
As the above photo shows, Sodalite enhances any nautical themed wedding. You can use Sodalite in your table settings, your party favors, your invitations, your save the dates and even in your wedding wear. Check out that groom's vest- sooo snazzy!
Down below, we see Sodalite as a modern theme. You can take inspiration from this whole montage- the dress, the shoes, the furniture, the tableware...
If the theme of your wedding includes Sodalite, you'll be enchanted by Pantone's color digital paper:
Scenes from a DJS wedding incorporating Sodalite Blue. You can get Sodalite to show up anywhere in a room with proper lighting, floral arrangements
Ready to have an incredible, gorgeous wedding? We're ready to plan it for you. We're the premier event planning firm for Long Island, and our weddings leave people talking for years afterwards.


Check out our gorgeous portfolio

here

and fan us on

facebook

. We'll take your vision and make it reality!