We love make-up! We did some research to find out exactly what's hot, right now. As event planners, we always have to look our best! Don't be left in the dust and use colors more suitable for summer, or colors that were popular last season! Read this post to find out what's hot, right now.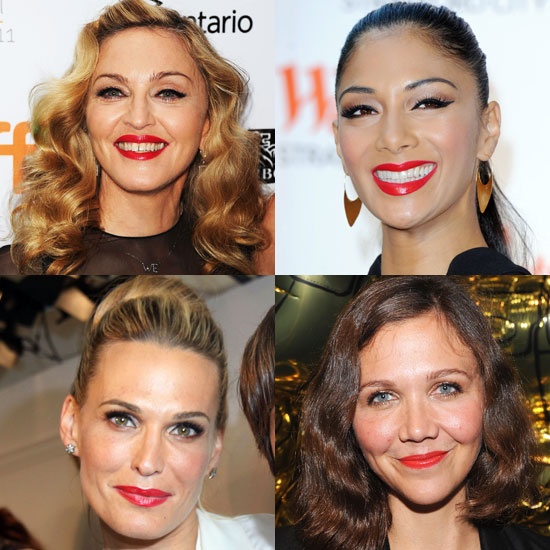 Red Lipstick.
So... big, bright lips are in. It's not easy to pull-off red lipstick, and depending on what shade your skin is, your personalized "red" will most likely differ than anyone you know. This is important to note, because red is not universal. Going out and buying your best friend's shade of red without trying it is most likely not the best move- improper shades of red can make women look like clowns. We recommend going to a make-up artist for your first try with red, so they can help you pick out the perfect hue for your skin tone. Check out this video with tips from Marie Claire and the red lips goddess, Poppy King.
Georgia May Jagger, Joan Smalls, Candice Swanepoel and Sienna Miller all donned some red at the same event in late September.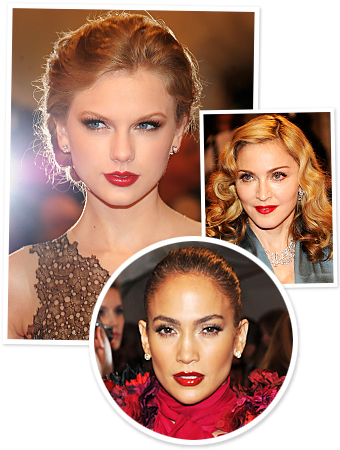 At the MET gala, Madonna, Jennifer Lopez and Taylor Swift all pucker up with red.
Here's one more tutorial video we think you'll love for wearing red.
Trend Numero 2: Smokey, Metallic Eyes.
These eyes were seen ALL over the runways this season and we found some GREAT tutorials for you on how to to do this. You can even wear these eyes for Halloween if you're going to a gala or other evening event, these eyes work perfectly for so many dramatic occasions.
This is a fabulous tutorial by high profile makeup artist Lisa Elridge! Check it out.
Smokey eyes are always in, but try this trend with metallics or shimmery colors. Here, we have navy and silver, but you can also go with bronze or gold. Have fun!
Nail trends: Rounded nails, French Manicures come back with vengeance and a twist and military hues look stunning:
The French Manicure comes back! You'll love the tutorial on this, we promise! French manicures come back with color blocking, which is a hot look shown all over the runways this season.
Check out these sexy greens. Forest green, camo green and muted metallics are all in style.